SAHASRA HANDS OF ARJUN by Balachandra N Kabadi, Ph. D.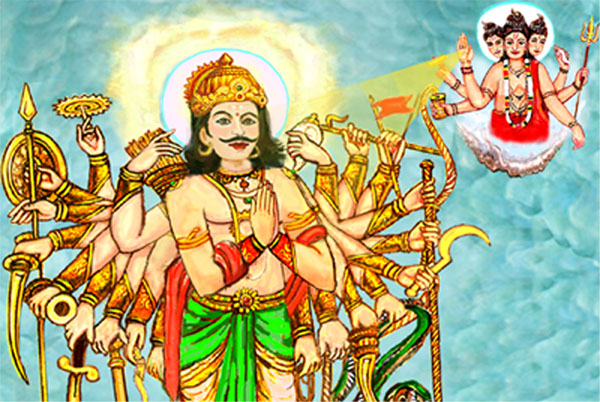 The word Sahasra virtually means a thousand. For many it means the dominance of emperor Arjun over the evil. In mythological art, the pictorial expression of the strength of Gods is depicted with multiple hands and brain power with multiple heads. There are other explanations on the expression of strength of Sahasrarjun in the form of fables and mythical tales. It is the subject of this article. The illustrations presented here are designed in the interest of youngsters, who have little or no direct contact with the main core SSK community. However, for reading the text the parents guidance may be required. Hopefully it will arouse curiosity in them over the glories of our past. Pictorially we have presented ten pairs of hands to represent the thousand hands of Sahasrarjun following the original painting by Shri Kale of Gadag. He was inspired by the scriptures on Sahasrarjun on the war front described in Bagvat puraan.
Great emperor Sahasrarjun, the patriarch, ruled the kingdom of Mahismati, the region of Maheshwar in the state of Madyapradesh, India. He was a well-known Kshatriya warrior, who stood out of other brave heroes of puraans, for his great strength. Sahasrarjun stories have been depicted differently in puraans. Many folklore's and fables describing his greatness have been passed on for generations. It is mostly from word of mouth. Their interpretations, however, vary in different regions. The fables described here have been collected by personal interviews with the few leaders of the SSK community by the author.
Our story begins from the heaven. Resident God Vishnu destroyer of evil, is generally identified by the weapon Chakra. This Chakra symbol adorns his right hand index finger. Pictorially it is shown as a very powerful, sharply spiked, spinning wheel. It spins fast This weapon represents God Chakradeva, the destroyer of evil elements of humanity. The Chakra sometimes in the form of wheel is used as a logo to symbolize our Sahasrarjun heritage. The wheel that represents Chakra is symbolically used in the figures or the book covers of the religious books related to Sahasrarjun.
Shri Laxminarayan Ambekar SSK leader of Maheshwar writes that God Vishnu at the appropriate time sent Chakaradeva to earth as one of his 26 avaatars. That is when there was no peace on earth due to turmoil caused by the rakshas or evil disruptors of the society. He descended to earth to eliminate the rakshasas and disruptors and become great emperor Sahasrarjun.
For generations it has been told that young Kartavirya after becoming the ruler of Mahismati, for the betterment of and for expansion of his kingdom to the four corners of the earth, sought the advice of the elders. Then he went on a quest for peace to a mountain top to pray to the God Dattatreya.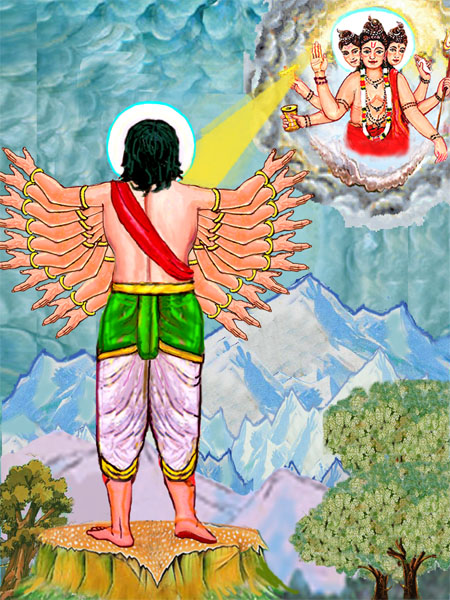 He prayed to him for peace and strength with deep devotion. Dattatreya became his mentor as well as his guru (teacher) and guided him during his entire life.
Dattatreya finally appeared and blessed his devotee with a thousand powerful hands. Mighty Sahasrarjun then conquered all the known and unknown oversea kingdoms. In reference to his powerful hands Sahasrarjun is addressed as Sahasrabahu, Sahasrabujhadhari etc.. He is also referred to as Rajarajeshwar, Kartavirya, Kartyviryarjun, Kritaviryanandan, Parakrami Arjun, Haihayaraja, Dashagrivajayi, Nagapal etc. He was known to be one of the seven greatest emperors that had ever lived.
Ganesh Puraan scriptures describe infant Kartavirya at birth as having no limbs. Professor Tikale VP of Akhil Bharat SSK Samaj (A B S S K) while traveling in Khanadesh, a northern border region of Maharashtra, came across the following folklore.
Thousands of years ago, due to political and social uncertainties, SSK migrants from Madyapradesh settled in the Erandon area of Khanadesh where this folklore originated. At Erandon Barhanapur Ganesh lake, in the Ganesh temple, the priest pointed at the paintings. He explained that here on the lake front, Kartavirya's parents were concerned. They carried their baby Kartavirya with no hands and prayed regularly to God Dattatreya, who then blessed the baby with the thousand hands. Kartavirya came to be known as Sahasrarjun.
The late Shri K G. Katway, the past president of ABSSK, in his article described that Arjun in the gigantic battle stance (avaatar, with the thousand hands) radiated a bright halo around him. This emitted powerful rays of light in all directions. The intensity of this glow was equivalent to a thousand suns. It blinded the enemies and scared them away, it humbled them to surrender. These rays represented his strength. Shri Nagosa Jituri retired Police officer of Hubli echoed the same view point.
Shri Vittalsa Badi past president of Gadag SSK Samaj interprets that the God Vishnu's Chakra had one thousand spikes. Sahasrarjun was the avaatar of Chakra, each spoke of it represented his hand.
Many interpret Sahasra represents hands of Sahasrarjun holding many weapons, expressing his knowledge in different war skills,Artist Kale placed imaginary weapons derived from the mythological depictions in Sahasrarjun's hands. The author Shri Ajore Sinha of Hai Haya descent in his descriptive verses on Sahasrarjun strength also portrayed many weapons.
Shri Badi claims that Sahasrarjun was accompanied by 500 humongous brave body guards serving him around the clock. Their collective 1000 powerful hands represented another source of his power.
Shri Badi even states that Sahasrarjun had 500 spouses. Their thousand hands also represented his greater strength. Undoubtedly he must have been a patient diplomat to shoulder multiple domestic situations.
Dr. Venkatrao Mengaji the VP of ABSSK explained that the thousand hands, presumably symbolic, represented his superhuman strength. He commented, that it is common sense that he was a thousand times more powerful. As an example in a duel with fierce Ravana, he defeated the demon effortlessly. Ravana had a mighty physique with 10 pairs of strong hands and ten large heads.
Concurring with Dr. Mengaji, Shri Parashuramasa Kalburgi the past president of Davangeri SSK samaj compares Sahsrarjun's strength to that of horse power, a unit measure of energy. He interprets the thousand hands as a unit of strength, like Arjun power, rather than actual possession of many hands.
Shrimati Krishna Veni of Hyderabad describes that multiple gifted trade skills of the SSK people, are really the extension of Sahasrarjuns hands. She explained that in due course of time the warrior skills of descendants were transformed into trades. They developed many talents in business. Traditionally they relied on their silk, cotton weaving and copper trades. They knitted fine garments with gold threads, they created new embroidery designs, they produced tassels. They were experts in stringing gold wires, thread gems and pearls. Indian rajas and sultans valued their talents and valor, British harnessed these skills too. Their trades eventually were extended into other commerce like stationary business, hotel restaurant management, wine and brandy industries. They have adopted Western technologies and have prospered. These skills are the extensions of Arjunas hands.
The simplest explanation one could propose is that, what may have started as an example of valor and strength of Sahasrarjun, has been glorified into many hands. They may have simply explained that "more hands meant more power". These eventually changed to parables. With the newer developments in graphics and electronics, we can express and communicate the concept of Sahasra visually with the illustrations and animation. Keep these traditional folklores alive.
Whatever may be the motivation employed in the past to explain the concept of Sahasra to their progeny, this concept is to be extended farther for the sake of our youngsters to include Sahasra means joining all hands.
Extend many of these Sahasra arms to reach the four corners of the earth as sahasrarjun did. Spread the message, unite and be strong. Keep in touch and carry his name (genes) with pride. Sahasrarjun live in all of us. Like him, shoulder each others responsibility. Keep in mind we are givers. Extend arms furthest to reach our needy. March on with his torch to eternity. Jaya Sahasrarjun. Jaya Dattatreya.
The author thanks all the samaj leaders starting from Shri V D Badi, Shri L Ambekar, Shri B V Tikale, lateShri K G Kataway, late Shri N T Jituri, Shri P K Kalburgi, Dr. V Mengaji and Shrimati K T Basude for their voluntary inputs in the form of comments and publications on Sahasrarjun. The author also invites feedback and welcomes input of any other fables or interpretations on Sahasrahands of Sahasrarjun. They will be incorporated in the future articles on Sahasrarjun.
My special thanks to Shri Nitin Barad the VP of SSKNA and Shrimati Nirmala Miskin home maker for their inspiration and valuable review.
I want to thank Shri Pentosha Golconda the president of SSKNA for critiquing the final transcript.
Balachandra N Kabadi, Ph. D.